Artist: Mutoid Man
Album:
War Moans
Release Date: June 2, 2017
Label:
Sargent House
CD / VINYL
/
ITUNES
Steve Brodsky
- Guitars, Vocals
Ben Koller
- Drums
Nick Cageao
- Bass
War Moans Credits:
Marty Friedman - lead guitar on "War Moans"
Chelsea Wolfe - vocals on "Wreck And Survive" and "Bandages"
Ben Chisholm - synth on "Wreck And Survive" and "Bandages"
Kurt Ballou - extra guitar on "Kiss Of Death" and "Bandages"
Adam McGrath - extra guitar on "Irons In The Fire"

Pre-production at Saint Vitus Bar, Brooklyn NY.
Produced and engineered by Kurt Ballou at God City, Salem MA, October 2016.
Additional engineering by Stove Bredsky and Pat McCusker at BMG NYC, November 2016.
Mixed by Kurt Ballou at God City November - December 2016.
Mastered by Brad Boatright at Audiosiege Engineering.
Cover illustration - Santos
Album Layouts - Ben Chisholm
Management - Cathy Pellow
Mutoid Man's initial aspirations were fairly humble. Guitarist Stephen Brodsky (Cave In) and drummer Ben Koller
(Converge, All Pigs Must Die) wanted to bask in their love of frantic, ferocious, no-frills metal. No riff was deemed too
extreme, no drum pattern was considered too absurd. With the recruitment of bassist Nick Cageao, Mutoid Man pushed
metal's villainous pageantry to vaudevillian levels. Over the course of extensive touring on their debut album Bleeder, the
band's live shows became exercises in showmanship, with the requisite headbanger gymnastics morphing into Van
Halen-esque panache and hardcore-basement- show prankery. On their sophomore album, War Moans, the band's stage
one-upmanship carries over to their songcraft, yielding an album of ridiculously savage hooks and next-level dexterity.

From the chugging bass line and guitar trills that kick off "Melt Your Mind", Mutoid Man sets a precedent of divine
instrumentation and unholy riffs. "Bone Chain" demonstrates the band's uncanny ability to meld punishing breakdowns,
fretboard acrobatics, and pop sensibilities into one propulsive punch. "Micro Aggression" crams more deliriously savage
hooks into two-and- a-half minutes than your average thrash band can muster over the course of an entire album. The
breakneck tempos are then dropped to the midtempo stomp of "Kiss of Death", which marries the warped bottom feeder
sludge of Morbid Angel's "World of Shit (The Promised Land)" with '80s hair metal vocal bravado.

"Well, it's certainly our most perverted record," Brodsky says when asked if there's an overarching theme to War Moans.
And without a doubt, lyrics like "Came inside of Satan's daughter / Nine months later, who's the father?" from "Date with
the Devil" reinforce this notion. But rather than lampooning metal's machismo, Brodsky sees War Moans as a statement
on larger society's lascivious obsessions. "It's about how easily things can be sexualized and how that can be at war with
your senses, how that makes you perceive things, and how it forces you to behave. Maybe it even attacks your ability to
stay on the straight and narrow." Cageao sees another subconscious theme to the album—our predilection towards self-
destruction. "It makes more sense now after the election, and that wasn't even the intention," Cageao says with a
mischievous grin. "The world is destroying itself."

The second side of War Moans captures this more serious side of Mutoid Man, but also rallies against the possible
downfall of the modern world by recruiting musical allies to fill out their doomsday epics. "Irons in the Fire" finds Cave In
compatriot Adam McGrath lending guitar heft to a megalith anthem. The title track instantly recalls The Big Four, with
thrash icon Marty Friedman further cementing the vibe by lending a blazing guitar solo. Grim folk luminary Chelsea Wolfe
and her longtime collaborator Ben Chisholm lend vocals and auxiliary instrumentation to the goth-inflected "Wreck and
Survive", as well as the album's harrowing closing track. "We wanted to write a Mr. Big-style arena rock ballad," Cageao
says of "Bandages". And indeed, the big open chords and wounded lyrics will surely have audiences pulling their lighters
out of their pockets, but Wolfe's siren vocals and Chisholm's electronic pulses give the song an apocalyptic weight never
attained by the darlings of the Sunset Strip.

Despite the ominous tone set by the closing tracks of the album, fatalism has never been the objective of Mutoid Man.
"The ultimate goal has always been Van Halen," Cageao says. "No one is Van Halen, obviously. No one can play like that.
I mean it in the sense that there is no fear of being an asshole." Indeed, anyone that's witnessed the band live is keenly
aware that Cageao and his compatriots prioritize fun over kvlt posturing. And with their latest album, Mutoid Man
effectively captures their power, precision, and grandiosity for all posterity.  Sargent House is proud to release War
Moans to the masses on June 2, 2017.
Notable Reviews & Features // War Moans


"First single "Melt Your Mind" is a two-minute burner that hits with a simplicity reminiscent of Motörhead…" – Stereogum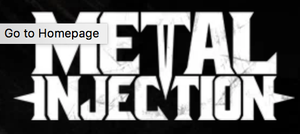 "From the shreddy fingers and wide vocal range of Stephen Brodsky, bass thunder of Nick Cageao, and creative complex drumming of Ben Koller, it's never a dull moment with the Mutoid camp, and why have it any other way?" – Metal Injection




"…these guys have taken their energetic sound to a whole new level, and I can't stop pressing play." – Ghost Cult



"Melt Your Mind' is dirty…bolstered by arcane, mucky riffs." – CLRVYNT




"…the blistering new single once again showcases the band's eclectic blend of down-tuned, technically-proficient groove and hard rock swagger."– Svbterannean




"Melt Your Mind." It's the title of the latest new song from Mutoid Man, but it's also an apt description of what listening to the song will do." – Metal Insider




"A Motorhead-style punk/metal ripper" – Brooklyn Vegan




"If the band's Helium Head EP and full-length debut Bleeder are any indication, their impending War Moans, is going to be one hell of a ride." – Alternative Press




"On War Moans, the band's stage one-upmanship carries over to their songcraft, yielding an album of ridiculously savage hooks and next-level dexterity." – Shockwave Magazine